Dr. Lourdes Gomez Villaume, Hospital Medicine, updates her friends, family and the By A Thread Community,

"Queridos familiares y amigos, aqui les muestro mi foto de mi segunda y ultima dosis de la vacuna contra el COVID-19, Me la pusieron el martes. Mi brazo estuvo un poco adolorido y me senti con un poco de escalofrio esa noche y ayer miercoles. Pero fue ligero y ya ha pasado."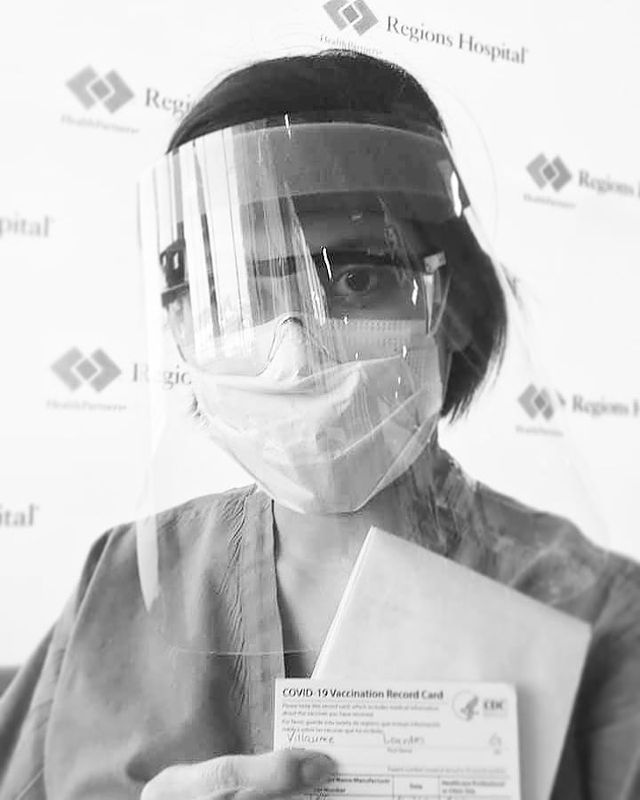 Photo courtesy of Dr. Lourdes Gomez Villaume
"Desafortunadamente, se que todavia la vacuna no llega a ser ofrecida a todos los que la quieren pero ojala si tienen dudas de aceptarla cuando esa oportunidad llegue, tengan un poco de confianza que nosotros los medicos y los cientificos que han disenado esta vacuna lo vemos como la mas segura y mejor opcion para seguir adelante. Yo ya registre a mi padre de 89 anos para que el reciba su primera dosis esta semana. Les aseguro que fue decision que tomamos cuidadozamente y despues de leer muchos estudios. Por lo tanto sigamos adelante y vigilante. Sigan con el cubrebocas, sigan limitando el contaco con personas fuera de su casa. Pronto nos volveremos a abrazar."